Engage to Educate
SPRING 2024 DATES COMING SOON
A live online workshop series for trainers, educators, and facilitators. Learn to design for contribution–not just consumption!
Leave inspired with heaps of fresh, new, and creative ideas for easy group engagement and connection!
Engage to Educate—Work with Chad Littlefield Live!
Looking for fresh, new ideas to make a bigger impact with your workshops, trainings, and speaking engagements?
Tired of being a dentist constantly pulling teeth for engagement and participation—online and off?
Do you want personalized suggestions to make your events fun and memorable?
Ready to level up your ability to design and facilitate world-class sessions?
This experience might be perfect for you.
Scroll down to see everything that's included and a snapshot agenda.
Engage to Educate is a live, online learning journey where other smart folks like you will come together to:
Develop a more thoughtful approach to participant engagement—online and off
Get insights and strategies for dealing with a "tough crowd"
Connect with other brilliant like-minded educators, facilitators, and trainers.
Hit the "refresh button" on how you think about and create your workshops, training sessions, and events.
Get personalized feedback and ideas specific to your content. 
Dive deeper in a private 1-on-1 mentoring session with Chad before AND after the course (if you register for Tier 3)
An independent trainer, facilitator, or coach who is running your own practice and leading your own sessions
An educator or corporate trainer who is delivering and leading workshops and trainings
Leader, trainers, facilitators, and educators who want to see higher engagement in your workshops, trainings, and meetings
Who Is This Course Not For?
If you aren't leading workshops, classes, keynotes, or trainings, you will greatly dislike this course
This course is not designed for passive consumers as we'll be actively practicing each strategy
This course is not for people who want to sit on the sidelines of content-heavy or "sage-on-the-screen" style sessions
What's the Investment?
That depends on what you're looking for!
Tier 1: $997
All 6 facilitated sessions + 3 Applied AMA Coaching Clinics
Tier 2: $1997
Everything from Tier 1 + a 4-7 person small group mentoring/implementation session before and after with Chad
Tier 3: $3997
Everything from Tiers 1 and 2 + one-to-one mentoring sessions before and after with Chad
Space is extremely limited. This isn't just a marketing line as we want to keep our sessions as personalized and applied as possible. As you consider this investment in yourself, note that we often look at the cost of a book, course, or coach. More rarely do we consider the cost of being in the same exact place 1 year from now.
The items below are included for all registration Tiers
Live sessions! All of our sessions will be held live—nothing pre-recorded
Recordings of all the sessions sent to you after the course
Workshop design planning template and cheat sheet to save you hours and hours of wasted design time
Certificate of completion to showcase your professional development
🌟 Session 1: "TL;DR" Overview of How to Make Engagement Easy
Get a crash course in the key principles of creating engaging learning experiences—online and off
🌟 Session 2: Getting Started—Unofficially
Learn how to set the stage for engagement from the very beginning, even before your session starts.
🌟 Session 3: Single Most Valuable Ingredient for High Engagement
Uncover the secret sauce that can make or break your audience's engagement.
🌟 Session 4: Master Connection Before Content
Discover how to create meaningful connections that pave the way for effective learning and content delivery.
🌟 Session 5: Designing Content for Contribution—Not Just Consumption
Learn how to design content that encourages active participation and contribution from your learners.
🌟 Session 6: The End…Matters a Lot
Get smarter strategies to wrap up your sessions, and leave a lasting impact on your audience.
🗯️ BONUS: To further personalize and apply these ideas to your context, Chad Littlefield will also be hosting 3 "Ask Me Anything" (AMA) Coaching Clinics where you can bring your questions, challenges, content, or ideas to get personalized advice
📅 AMA Coaching Clinic 1
📅 AMA Coaching Clinic 2
📅 AMA Coaching Clinic 3
Who's leading this course, anyway?
Chad Littlefield, M.Ed.
Co-founder & Chief Experience Officer
Chad Littlefield is the co-founder and Chief Experience Officer of We and Me (www.weand.me)—an organization whose mission is to make connection easy. Leaders and educators call Chad when they want to make connection and engagement easy in their organization. Forbes calls Chad a "global expert on asking questions that build trust in teams."
He is a TEDx speaker and creator of the Connection Toolkit, which is now being used to create conversations that matter on campuses and companies in over 80 countries around the world. Chad is also the co-author of Ask Powerful Questions: Create Conversations that Matter, now a #1 Amazon Bestseller. Most recently, Chad launched his brand new, interactive book, How to Make Virtual Engagement Easy. 
Get a feel for what a virtual workshop led by Chad feels like: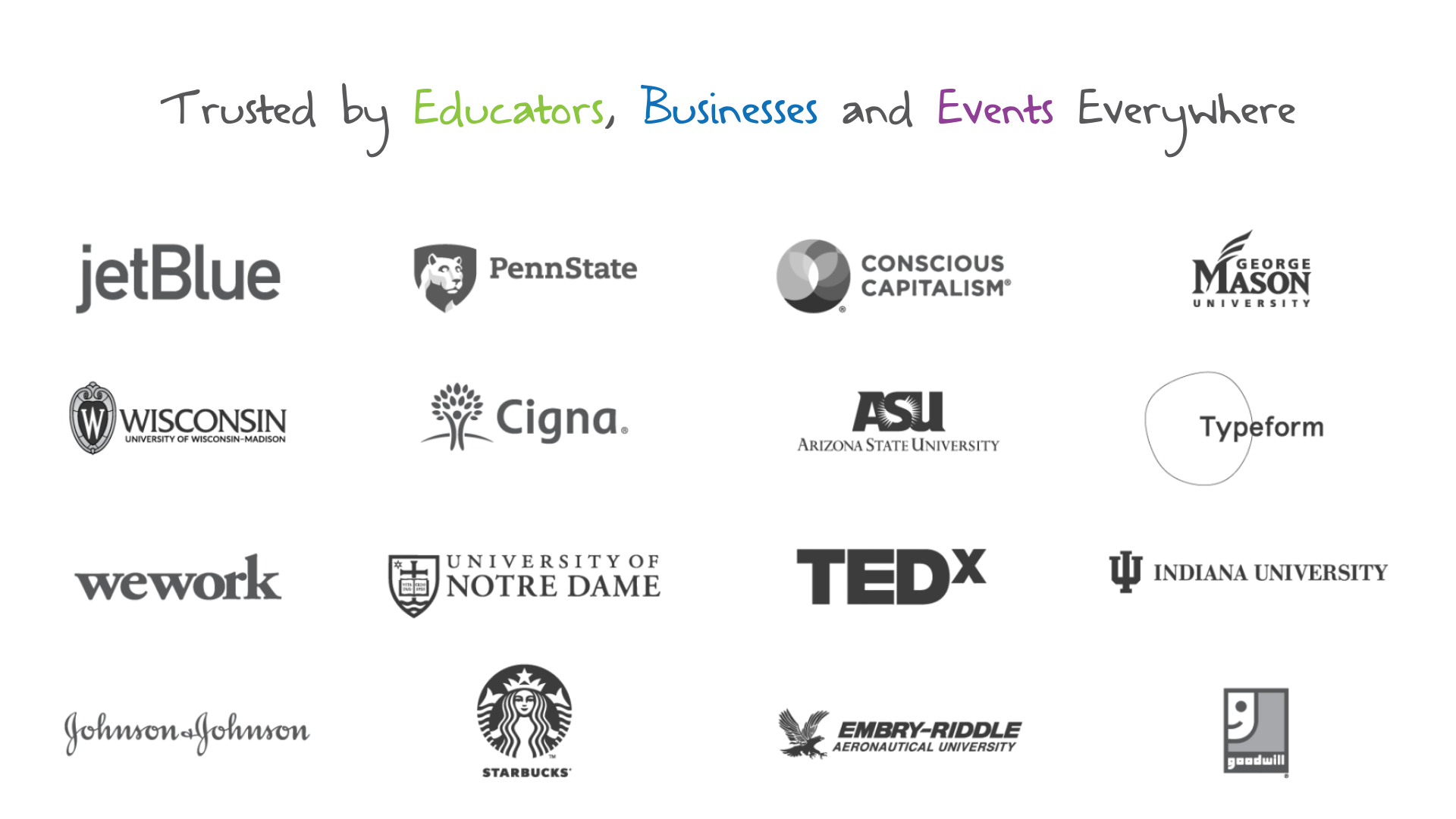 FAQ
Have more questions?
Email hello@weand.me
What's the schedule for these sessions?
The sessions will be held once a week for six weeks. There will also be a few, creative asyncronous elements scattered throughout. 
How many attendees will be in the course?
We'll cap attendees at 49 for the large group sessions included in Tier 1 registration (so we can fit on one Zoom screen 😊
Small group sessions included in Tier 2 registration will have a max of 4 to 7 people.
And Tier 3 registrants will get one-to-one personalized mentoring with Chad.
When is this happening?
These are the "dates on the calendar" so to speak, but we'll also be in regular communication before, during and after as well.
📅 Session 1: May 2 2:00-3:30 pm ET
📅 Session 2: May 9 2:00-3:30 pm ET
📅 Session 3: May 16 2:00-3:30 pm ET
📅 Session 4: May 23 2:00-3:30 pm ET
📅 Session 5: June 6 2:00-3:30 pm ET
📅 Session 6: June 13 2:00-3:30 pm ET
📅 AMA Coaching Clinic 1: June 15 2:00-3:00 pm ET
📅 AMA Coaching Clinic 2: June 23 12:00-1:00 pm ET
📅 AMA Coaching Clinic 3: July 20 12:00-1:00 pm ET
Will this be recorded?
All of the sessions will happen live, but we'll send the recordings of them out after the course ends so you have them for future reference.
Are we going to be in small groups or all together?
Yes and yes. Designing for engagement requires the format to be shifted often. Pairs, small groups, whole group shares, solo-reflection, application time, etc.
Chad will be modeling the facilitation styles and techniques as he teaches them.
Can I get a recording of the sessions even if I don't attend?
Ideally, you have the times blocked off on your calendar to give yourself the time and space to really jump to a new level in your engagement skills. Life happens though, so if you wind up missing a session or two, all recordings will be sent out to all registrants after the course ends. Recordings will only be made available to our the participants, though. In other words, "what happens in our sessions stays in our sessions."
What happens if I don't like it?
If you don't love the experience and get heaps of value, we'll refund you your money. Period. (Big claim, we know. But we only design experiences that matter and make a difference.)
How do I register?
Get notified as soon as new dates are announced!