How to Make Virtual Engagement Easy

A Remote Retreat • March 10-11, 2022
"Virtual" doesn't have to mean disconnected. Join other smart trainers, leaders, and facilitators to refresh, rethink, and recharge how you lead—remotely.
How to Make Virtual Engagement Easy
— the LIVE EXPERIENCE
Want to level up your ability to design and facilitate world-class virtual sessions?
Tired of being a dentist constantly pulling teeth for engagement and participation?
Sick of feeling exhausted at the end of a day remote meetings or presentations?
This experience might be perfect for you.
Scroll down to see everything that's included and a snapshot agenda.
How to Make Virtual Engagement Easy (HMVEE just to make things easier) is a 2-day intensive retreat and professional development journey (virtually, of course) where participants will come together to:
Connect with other brilliant like-minded educators, facilitators, and trainers to hit the "refresh button" on how you think about and create your virtual workshops and training sessions
Get personalized feedback and ideas specific to your context
Dive deeper in a private 1-on-1 mentoring session with Chad before AND after the retreat
An independent trainer, facilitator, or coach who is running your own practice and leading your own sessions
An educator or corporate trainer who is delivering and leading workshops and trainings
Anyone who knows "virtual" and "remote" are here to stay and is uplevel their skills to continue delivering impactful sessions remotely

Leader, trainers, facilitators, and educators who want to see higher engagement in your workshops, trainings, and meetings
Who Is This Retreat Not For?
If you aren't leading workshops, classes, keynotes, or trainings virtually, you will greatly dislike this retreat
This retreat is not designed for passive consumers
This retreat is not for people who want to sit on the sidelines of content-heavy or "sage-on-the-screen" style sessions. We are going to really go deep with discussions, exercises, and interaction. The greatest teacher is Experience and they will be the lead instructor of this retreat.
What's the Investment?
$3497 USD or 4 x $900 USD
$2997 USD or 4 x $750 USD until December 18th — or spots are filled
Space is extremely limited. This isn't just a marketing line. This retreat is intended to be an intimate, transformative experience—not a giant workshop. As you consider this investment in yourself, note that we often look at the cost of a book, course, or coach. More rarely do we consider the cost of being in the same exact place 1 year from now.
Live sessions! All of our sessions will be held live – nothing pre-recorded
Recordings of all the sessions sent to you when the retreat is over
1-on-1 mentoring session with Chad before AND after the retreat for even more personalized feedback and application
Workshop design planning template and cheat sheet to save you hours and hours of wasted design time
Snapshot Agenda
Note: this agenda will change based on the needs of the group. Good retreats are defined by spaciousness, reflection, and application—not content overload. This outline is meant to serve as a guide to get us started on the journey to refreshing your relationship with virtual gatherings.
All session times below are in Eastern Standard Time. The 2-hours on and 2-hours off format is a really neat one, we know you are going to love!
Day 1 – March 10
8 – 10am – Connection & Experiential Overview of the 5 Ingredients to Virtual Engagement
12 – 2pm – Running Unofficial Starts & Creating the Context Hook
4 – 6pm – Designing Connection Before Content Experiential Masterclass
7 – 8pm – Optional Reflect & Connect Time

Day 2 – March 11
8 – 10am – Designing Content for Contribution—not Consumption
12 – 2pm – Closings that Count
4 – 6pm – Putting it to Practice
7 – 8pm – Business of Virtual and Behind the Scenes with a Drink in Hand
Our experience won't end after the retreat either. Weeks after the retreat, we'll be booking in a small group Momentum Meeting to keep the motivation, creativity, application, and ideas flowing.
Who's hosting this retreat, anyway?
Chad Littlefield, M.Ed.
Co-founder & Chief Experience Officer
Chad Littlefield is the co-founder and Chief Experience Officer of We and Me (www.weand.me)—an organization whose mission is to make connection easy. Leaders and educators call Chad when they want to amplify connection, belonging, and trust in their organization. Forbes calls Chad a "global expert on asking questions that build trust and connection in teams."
He is a TEDx speaker and creator of the Connection Toolkit, which is now being used to create conversations that matter on campuses and companies in over 80 countries around the world. Chad is also the co-author of Ask Powerful Questions: Create Conversations that Matter, now a #1 Amazon Bestseller. Most recently, Chad launched his brand new, interactive book, How to Make Virtual Engagement Easy. 
Feel free to connect with Chad beforehand through his interactive learning letter right here: www.weand.me/ideas or watch a snapshot of what being with Chad in this retreat might be like.
Chad has led workshops, trainings, retreats, and interactive keynotes for some of the smartest leaders and most innovative organizations on the planet.
Check out a few of the folks that trust Chad with their teams below.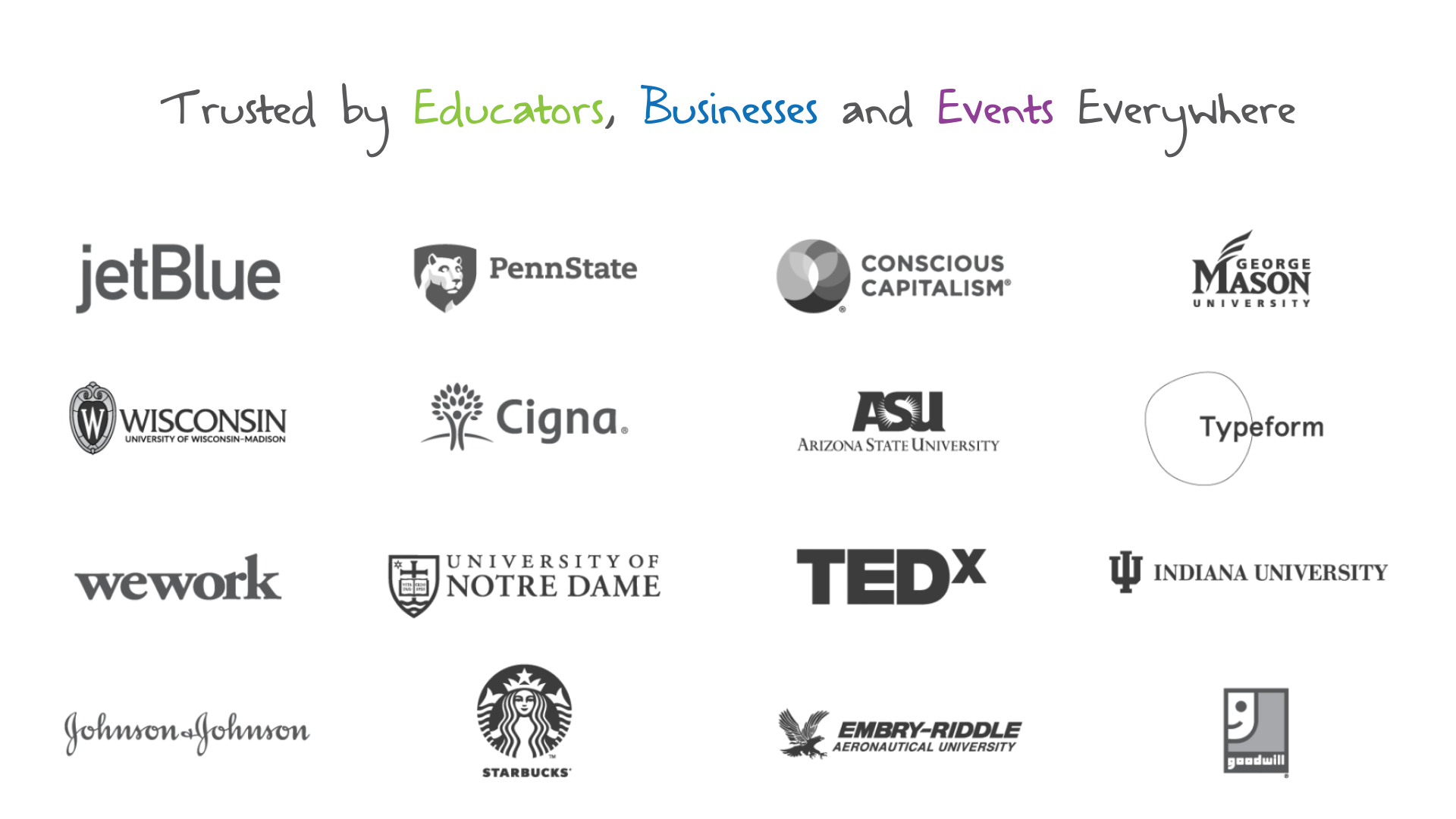 FAQ
Have more questions?
Email hello@weand.me
What's the schedule for this retreat?
We're planning for 2 days, with a 2-hours on, 2-hours off set up which provides a very powerful and unique format you may even want to end up using yourself one day.
We'll also be mixing up platforms! Some will be on Zoom. But some of our time will be on more interactive, free flowing platforms like Wonder or Remo. And of course, Chad has some surprises up his sleeve as well.
How many attendees will be in the retreat?
We'll officially close registration at 16 attendees. This is to ensure Chad can personally know everyone, their context, intentions, and challenges. This number also allows for enough diversity of thought and idea exchange. One of the largest "hidden" benefits that will emerge are the lifelong connections and thought partnerships that will come from our time together.
When is this happening?
The key retreat dates are Thursday and Friday, March 10-11, 2022. We'll follow the 2 hours on and 2 hours off format Chad mentioned in the video above—which we trust you'll love! Sessions will start at 8:00AM EST. See the snapshot agenda above for further details. If there are enough folks in Pacific Time registered, we may shift the time frame up by one hour to accomodate as well.
You'll also be receiving a private one-to-one mentoring session with Chad before and after the retreat.
We'll also follow-up with a small group Momentum Meeting to keep the motivation, creativity, and application flowing.
These are the "dates on the calendar" so to speak, but we'll also be in regular communication before, during and after the retreat as well.
Will this be recorded?
All of the sessions will happen live, but we'll send the recordings of them out after the retreat so you have them for future reference.
Will we be on Zoom the whole time? Ugh.
No. To really maximize engagement, you've got to mix up the platform and the meetings location. Some will be on Zoom because getting creative with what "everybody" is using is important to your sessions standing out to attendees.
But we'll also be using more interactive systems like Wonder and Remo. And, of course, Chad's got some surprises up his sleeve as well! We can't spoil all the fun.
Are we going to be in small groups or all together?
Yes and yes. Designing for engagement requires the format to be shifted often. Pairs, small groups, whole group shares, solo-reflection, application time, etc.
Can I get a recording of the sessions even if I don't attend?
Ideally, you have the full days blocked off on your calendar to give yourself the time and space to really jump to a new level in your remote leadership skills. Life happens though, so if you wind up missing a session or two, all recordings will be sent out to all registrants after the retreat. Recordings will only be made available to our retreat cohort. In other words, "what happens in our retreat stays in our retreat."
What will happen after I pay and register?
You'll start receiving calendar invites with join info for the retreat session. Chad will also personally be communicating with you the whole time leading up to the retreat. A group email and next steps will be shared once space is filled or registration is closed. We'll also get your 1-to-1 with Chad booked in.
What happens if I don't like it?
If you don't love the experience and get heaps of value, we'll refund you your money. Period. (Big claim, we know. But we only design experiences that matter and make a difference.)
How do I register?
Sign up for this remote retreat in the We and Me store: